Coronado 740 - 1937 model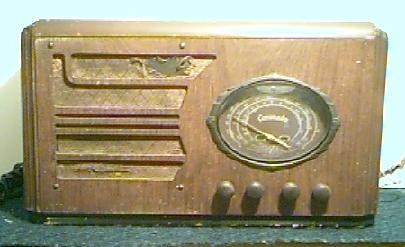 This is the "before" photo from the guy who abandoned it on eBay.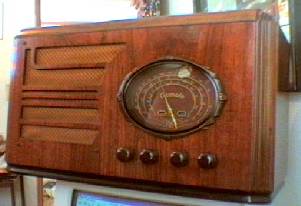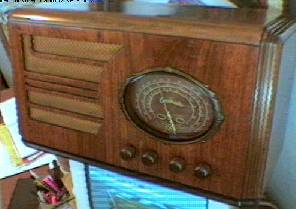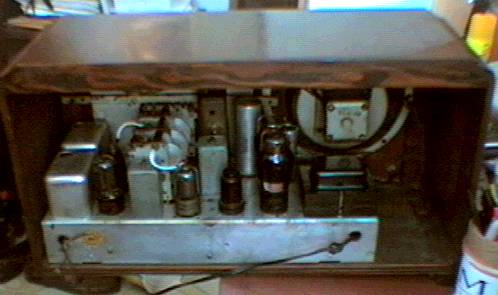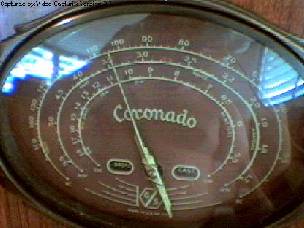 These are the 'after' pix.

I'm not really positive of the date of this radio. Something that looks like a date code inside implies 1937. With this tube lineup it seems plausible. Its got a real neat oval-shaped dial which is its nicest feature. According to the Bunis book, Coronado seemed to have a lot of post-war models, but wasn't a very prolific set before the war. It was made by Gamble-Skogmo, a West Coast manufacturer.

Its a big sucker-measures 22" wide. Doesn't seem so big in the photo.

Its an AM/Shortwave (3-bander) that tunes up to 18 Mhz. Tube line up is 5Y3, 6A8, 6K7, 6Q7, 6C5, and a pair of 6F6s. Little bit of rust on the chassis and the frame of the tuning cap is pretty rusty and difficult to clean up. Cabinet is in good shape, and now has been nicely refinished. Nice original wooden knobs, the grill cloth is new.

This babe came out nice. I pat myself on the back (and thank the cool weather) for a nice refinishing job on the cabinet. And the radio plays perfect after undoing the damage some idiot did to the oscillator coil. Boy, what a pair of 6F6s in parallel can do! The speaker had been patched earlier and it sounds good, so I left it alone.




For more info, e-mail me ....



Return to Sparkbench Home Page

Return to Recipes From Venus & Mars - Exray's Home Page