Europhon - Italian radio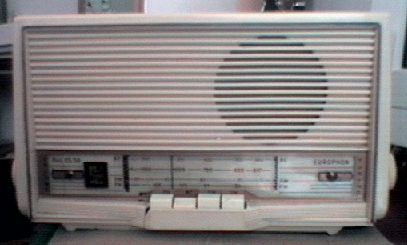 Not an antique, but not at everybody's yard sale either!



Ebay - two bucks - couldn't pass it up. I just had to see what an Italian radio was like. I've messed with a few other 50s-60s Euro-radios and find them frustrating with plastic pieces that break off and tubes ya can't test.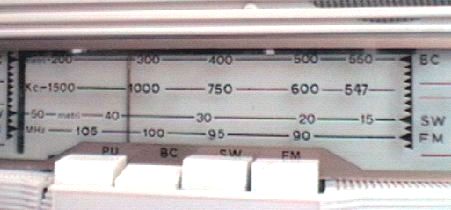 Here's a picture of the dial. AM in kcs and 'metri', FM in mcs and SW in metri only. Go figure. The big national station in Rome is at 547 on AM. This tuner uses a big spiral gadget to move multiple slugs inside the coils for tuning. Only problem is some aluminum part that has alot of play in it making the tuning too floppy for casual SW tuning.




Above, see the innards. Nice and clean and to my surprise this radio is very well built and laid out neatly under the chassis. Better than some Philips and Nordmendes I have seen. All Italian made components. I had to regretfully replace 3 of the tubular caps that are marked 'Ducati'. The tubes are all original 'Marconi Italiana' and have little decals attesting to that brand. Tube line up is a 35B4, 35A3, 12BA6, 6BJ7, 12AJ7, 12??6. Can't say much good about the plastic cabinet, tho. Oh, and its multi voltage...has about 5 settings from 110 to 240 volts.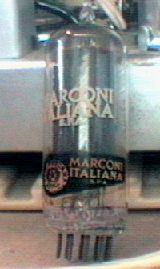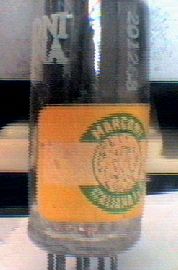 Anyway, something a little unusual to break the monotony. The little set plays well and sounds decent.





BAD NEWS (9/99) !!! - Little radio took a fall when I was trying to re-arrange some other Sparkbench junk. The already cracked plastic cabinet pretty much shattered. On a positive note, this seems to be one of those rare plastics on which SuperGlue actually works. Still plays, but its destiny is a pizza joint where it can be covered with flour dust.

For more info, e-mail me...



Return to the SPARKBENCH


Return to Recipes From Venus & Mars - Exray's Home Page