RCA Model T7-5 - 1935 model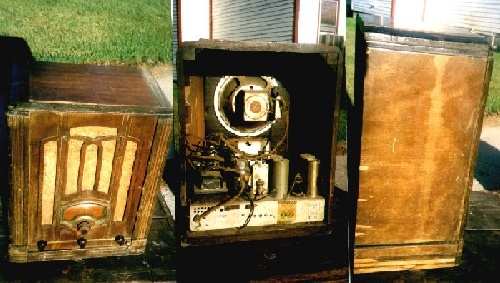 The 'before' pix...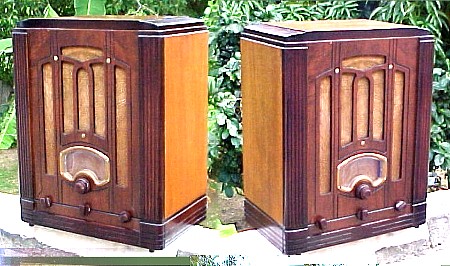 Here's the finished radio.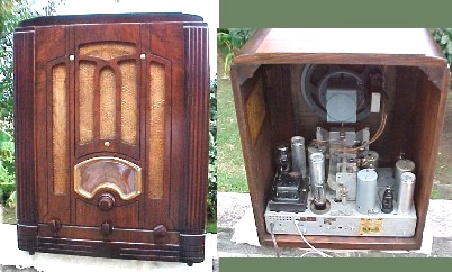 And two more photos....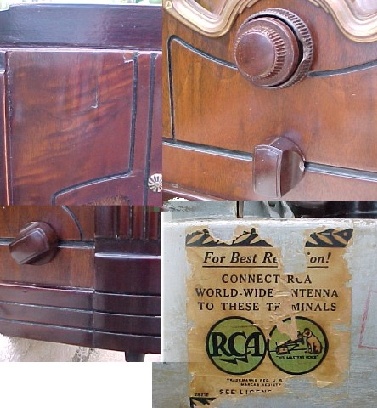 Here's the flaws. Main Tuning knob and the bandswitch knob are chipped. There's a damaged piece of veneer up in the top left corner of the front. The rest of the front is in good shape and it didn't merit patching. A patch was put in the lower right corner and is visible in the photo. Someone had previously added a replacement switch.

Its a typical tombstone radio from 1935. Tube lineup of 6K7, 6A8, 6K7, 6H6, 6F5, 6F6 and 80. Covers AM and up past 18 Mc. As usual with the RCA's, it plays very well and is a good performer on SW. It has a tuned RF Amp stage as the input. Completely recapped and realigned and should play flawlessly for many years to come.

Cabinet is pretty nice in spite of the couple of flaws mentioned before. I worked hard to repeat the color toning of the cabinet and it came out nice. Its good and solid. Speaker cloth and the knobs are all original. The original dial and dial cover were very discolored, so they have been replaced with exact replacements from RockSea and 'Radiorita'.



See the second page for photos with the new dial!!!



I always wind up saying this about RCAs, but there are no glitches or funny business with this radio. I'm kinda partial to RCA's and this radio's quality is another reason why.

Back to the SPARKBENCH For more info, e-mail me ....



Return to Recipes From Venus & Mars - Exray's Home Page