.
Other Late 40s, early 50s AM/FMs

Frequency Modulation Arrives At The Sparkbench!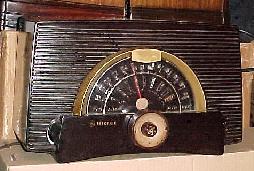 Philco 49-905, an RCA, and GE409
Pilot tuner and Howard 482 converter
I never gave much thought to the history of the old 42-48 Mc FM band, but I found it to be very interesting. There's some good links that provide greater detail on the early days of FM.
FM sets for the old 45MHz FM broadcast band - WA2ISE's thorough coverage of this vintage of radios.
FM-Only Portable and Table Radios - Andy Mitz's 'all FM' site
Jeff Miller's Broadcasting History Pages - Includes listings and histories of the stations of the era.
Here is a prewar console that had to be pretty much top-the-the-line in those days. Its an E. H. Scott Philharmonic made in 1941 that tunes the old 42-48 Mc band. This fine example is from the collection of Michael Feldt of Carmel, Indiana.




Return to The Sparkbench Main Page


24/04/2000