There's really no such thing as a Hiker's 4...until now. This is the fourth variation of the Hiker's project that I have built based on the info at http://www.oldradios.co.nz/hikers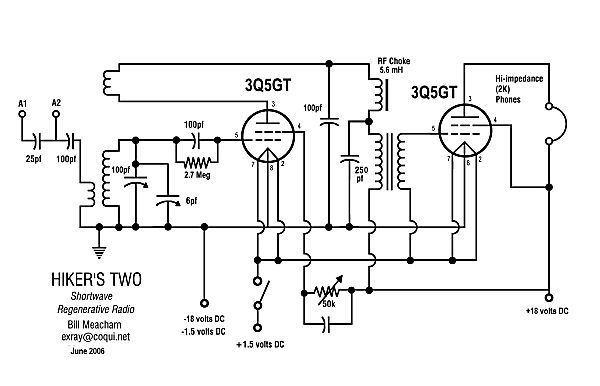 This time I went with a pair of 'modern' 3Q5-GT battery tubes. These are considerably less costly than the original 49 types. Being designed as a battery-operated tube they work fine with a C-cell for the filament and a pair of 9 volt transistor radio batteries for the plate voltage. I mounted the battery holders onboard as a convenience.

The tuning cap is a 100pf vintage brass Pilot miniature type using a Pilot 'Kilograd' vernier drive and I have equipped the receiver with two coils, one tunes 3.0-5.6 MHz and the other tunes 5.4-10.5 MHz. The lower left control is a 6pf ceramic type vernier tuning control.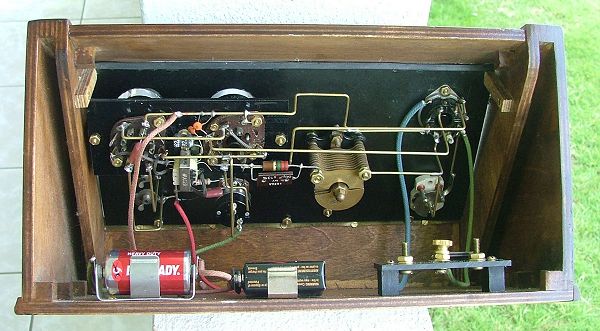 Rigid brass rod of 1/16" diameter is used for the set's internal circuitry wiring. Dual antenna inputs are provided, one direct and the other using a 5pf cap for light loading. No trouble with 'dead spots' when tuning with my antenna.

Coils are wound on homemade phenolic forms that use an octal base. Three windings are incorporated - antenna, main rf tuning, and tickler.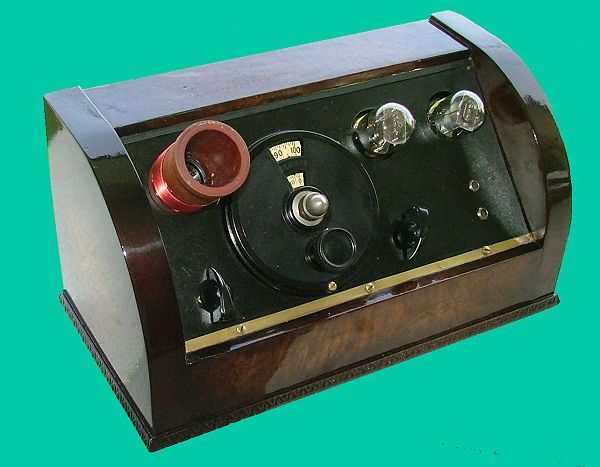 The cabinet features a 1930s "waterfall" design with burl veneer on the top and front. Nicely toned with hand rubbed lacquer as the finish.


As with the previous Hiker's projects this is a very good performing 2-tuber, particularly in light of the low voltage requirements.