RCA Model 5T - 1935 model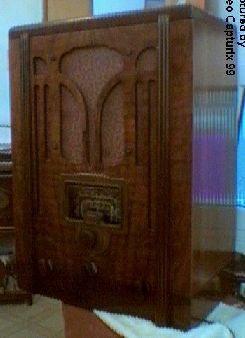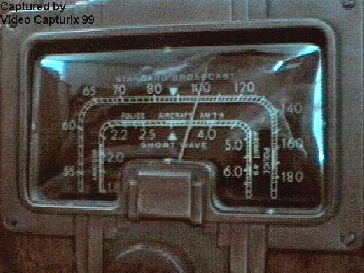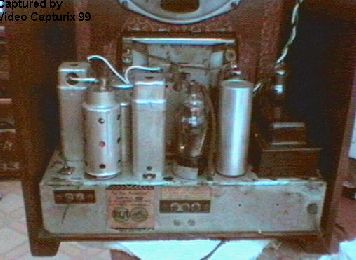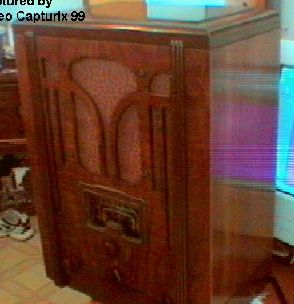 These are the 'after' pix.
Here's a typical tombstone radio from 1935. Standard tube lineup of 6A7, 6D6, 75, 42 and 80. Covers AM and some usable SW...gives full coverage of the 49m band. As usual with the RCA's, it plays very well. Completely recapped and realigned and should play flawlessly for many years to come.

Cabinet is really nice. I repeated the two-tone motif with good success. There's a slight crack in the back bottom-left corner about an inch long. I did that, stoopid! Used a big screw to pull together the wood while regluing. And there's a repair to the veneer on the fluted speaker portion of about 3/4" that isn't as invisible as I wanted it to be. See pix below.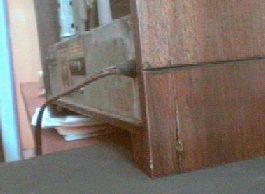 Speaker cloth is a 'by the book' replacement-but I think its a bit on the dark side. The original cloth wasn't all that shabby but looked bad when everything else about the radio looks new. I saved it in case somebody wants it. All knobs are original types. The speaker is an Emerson of the same size and specs, not the original one. Its missing one tube shield but that doesn't seem to affect performance. Its also got a brand-new Sally Molasky dialcover instead of the old cloudy yellow one. It makes the radio look brand new.

I wish I had the means to do a real nice jpeg photo of this radio. It came out nicely. As of today, I've had it finished for a coupla months and it's been playing 8-10 hours a day here in the Sparkbench Corporate Office ever since. No glitches or funny business with this radio. I'm kinda partial to RCA's and this radio's quality is another reason why.


...........SOLD !!!...............



Back to the SPARKBENCH