1935 Delco 1106
This is the "before" photo from the guy who had it listed for sale.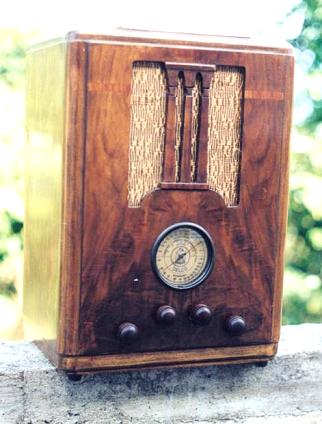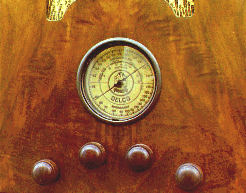 The final version...strange how the digital photo came out so yellowish, the actual print didn't.

This radio arrived here to the Sparkbench with a chassis underside full of oak-seed whirlybirds and the skeleton of the rodent who had made this radio his home. He also had a tendency to nibble on wire insulation to augment his diet, but I guess it wasn't to his liking because he didn't eat much. The radio has BC/SW coverage. The SW band only goes up to 6.5 Mcs but these days that still gives the 49-meter shortwave broadcast band to listen to. Tube complement is 6A7, 6D6, 75, 42 and 80, pretty standard for those days. The cabinet is a nice heavy wood with burled veener on the front and 4 nice original wooden knobs. I re-did it with a base coat of lacquer, relinquishing to several coats of varnish and several coats of a nice polish to bring out the shine. Unfortunately, the chassis had a haze of light rust and after cleaning, it shows some pitting.

She's had all her capacitors replaced along with some assorted resistors and plays like a new radio. It talked and sang the first time I plugged it in after re-doing the electronics. This radio is particularly sensitive and I can see no difference in its ability to receive equally well anything my new Aiwa stereo can receive - And thats only using about 6 feet of wire -indoors- as an antenna. The SW band at 6 Mcs is chock full of strong overseas stations at night.

Update-Mr. Delco now has a new home in California.






Return to Sparkbench Home Page